An intact Type I lyophilised porous collagen primary dressing.
Same material as Helisorb Particles but in a Sheet form.
Helisorb Sheet has a nylon mesh backing layer which may easily be removed if clinician prefers. The nylon mesh acts to separate secondary dressings from contact with the healing wound and is non-adherent and easily removed from the wound.
Indications: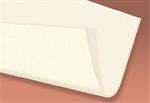 Delayed primary closure
Partial thickness burns
traumatic wounds
Non-healing wounds
As dressing over primary closure
Large donor sites
Medira's Type I collagen range consists of Intact Type I fish collagen, are non cross-linked, and are biocompatible as per EN ISO 10093 standards, non-toxic, non-allergenic, non-immunogenic, non-pyrogenic.
References
Hampton S, Understanding the pH balance in wound healing, JCN 2008,22:05
Sheehan P, Jones P, Caselli A, Giurini JM, Veves A. Percent change in wound area of diabetic foot ulcers over a 4-week period is a robust predictor of complete healing in a 12-week prospective trial Diabetes Care. 2003 Jun;26(6):1879-822.
Elgharably, H.et al . A Modified collagen gel enhances healing outcome in a preclinical swine model of excisional wounds. Wound Repair and Regeneration. March 2013
Krieg T. Collagen in the Healing Wound. WOUNDS. 1995;7(Suppl A):5A–12A
Karukonda S, Flynn T, Boh E, Russo G, Milikan L. The effects of drugs on wound healing:part 1. International J of Dermatology 2000;39:250-7r
Schultz G, Mast B. Molecular Analysis of the Environment of Healing and Chronic Wounds: Cytokines, Proteases and Growth Factors. Wounds 1998;10:1F-9F.
Bailey A. Perspective article: the fate of collagen implants in tissue defects. Wound Repair Regen 2000;8:5-12.
Montesano R, Orci L, Vasselli F. In vitro rapid organization of endothelial cells into capillary-like networks is promoted by collagen matrices. J Cell Biol 1983;97:1648-52.
Albini A, Dadelmann-Grill BC. Collagenolytic cleavage products of collagen type I as chemoatractants for human dermal fibroblasts, Eur. J Cell Biol 1985;36:104-7.
Doillon CJ, Silver FH, Olson RM, Kamath CY, Berg RA. Fibroblast and Epidermal Cell-Type I Collagen Interactions: Cell Culture and Human Studies. Scanning Microscopy 1988; 2(2):985-992.
Kakagia DD et.al. "Synergistic action of protease modulating matrix and autologous growth factors in healing of diabetic foot ulcers. A prospective randomized trial." Journal of Diabetic Complications Vol. 21(6) Nov-Dec 2007, p.387-391
Li F, et al "Low Molecular weight peptides derived from extracellular matrix as chemoattractants for primary endothelial cells" Endothelium, Vol. 11(3-4) May-Aug 2004 p.199-206
Palmieri B. Heterologous Collagen in Wound Healing: A Clinical Study. International Journal of Tissue Reaction 1992; 14:21-25.
Jeffrey J. Metalloproteinases and Tissue Turnover. WOUNDS, A Compendium of Clinical Research and Practice. Vol 7, Supplement A, September/October 1995, p13A-22A.
Pilcher, BK, Dumin JA, Sudbeck BD, Krane SM, Welgus HG, Parks WC. The Activity of Collagenase-1 Is Required for Keratinocyte Migration on a Type I Collagen Matrix. The Journal of Cell Biology, Volume 137, Number 6, June 16, 1997 1445–1457.
Saito S et.al. "Role of matrix metalloproteinases 1, 2, and 9 and tissue inhibitor of matrix metalloproteinase-1 in chronic venous insufficiency", Journal of Vascular Surgery Vol. 34(5), p.930-938 Nov. 2001.
Metzmacher I , Ruth P , Abel M , Friess W . In vitro binding of matrix metalloproteinase-2 (MMP-2), MMP-9, and bacterial collagenase on collagenous wound dressings. >Wound Repair Regen. . 2007 Jul-Aug;15(4):549-55