Neuskin®-F
Neuskin®-F is an effective epidermal substitute that supports epidermal cell attachment and migration 1,2,3,4,5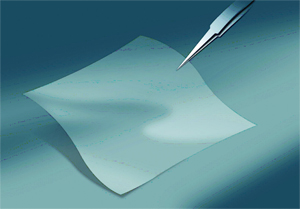 Indications
Donor sites or non-healing donor sites
Superficial to partial thickness burns
Abrasions and skin tears
Venous stasis leg ulcers
Neuskin®-F is a Type I collagen film membrane
provides a biodegradable collagen substrate for migrating keratinocytes 5
a natural matrix for cellular growth and vascularisation 3, 5
Fish collagen source reducing risks associated with mammalian collagen dressings
Quick and firm adherence to wound bed
Transparent membrane enables wound visualisation
Adaptable to all body areas
Provides immediate pain relief 3 for patients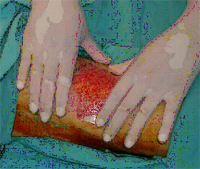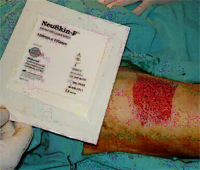 Neuskin-F application on donor site Showing healing in 7 days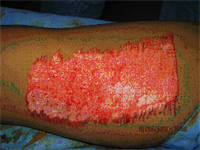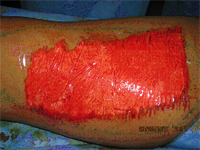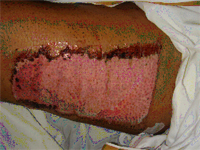 "I am extremely impressed with results to date. My first patient had extensive non-healing donor sites that showed epithelialisation in 7 days after using Neuskin-F." GL, Plastics Clinical Nurse Specialist, London
Neuskin®-F is a collagen dressing derived from Piscean sources
Biocompatible as per EN ISO 10093 standards
Non-toxic, non-allergenic, non-immunogenic, non-pyrogenic
References
Horch RE, Stark GB. Comparison of the effect of a collagen dressing and polyurethane dressing on healing of split thickness skin graft donor sites. Scand J Plast Reconst Surg Hand Surg 1998; 32 (4) : 407-13.
Kilinc H, Sensoz O, Ozdemir R, Unlu RE, Baran C. Which dressing for split thickness skin graft donor site? Ann Plast Surg 2001; 46 (4) : 409-14.
Parks WC. The production, role, and regulation of matrix metalloproteinases in the healing epidermis. WOUNDS. 1995;7(Suppl A):23–37.
Ponten B, Nordgaard JO. The Use of Collagen Film as a Dressing for Donor Areas in split skin grafting. Scand J Plast Reconstr Surg 1976; 10 : 237-40.
8 Scharffetter-Kochanek K, Klein CE, Heinen G, et al. Migration of human keratinocyte cell line (HaCaT) to interstitial collagen Type I is mediated by the alpha 2 beta 1-integrin receptor. J Invest Dermatol. 1992;98(1):3–11.